I was born and raised in the first Mongolian community in the United States in Howell Township, New Jersey. My parents survived WWII, both Stalin's purges and Hitler's camps. Liberated by allied forces, my parents and two brothers were a part of 580 Kalmyk Mongols who were allowed to immigrate to the U.S. in 1951-52.
Growing up in this community of immigrants, Mongolian became the first language I learned at home. There, in the middle of NJ, I was completely immersed in Mongolian culture, and naturally I started feeling deep curiosity and respect for my ancestral origins. My father had great foresight and was very intentional in making sure that I learned the language and my cultural traditions, and he used to tell me: "When you are at home you speak Mongolian, because those with blue eyes and another religion will teach you English."  He knew that learning English while living in America would have been easy for me, but maintaining my language and my cultural identity was far more challenging. I lost him when I was 14, but I will always cherish his wisdom. In fact, my father has been the greatest source of inspiration in my life - through the tales and proverbs he used to tell me, his love and pride for our homeland, the desire he instilled in me of knowing where my ancestors came from.
In 1990, following a peaceful revolution, Mongolia became a democracy after 70 years of communism. I invited and hosted one of the earliest Mongolian political delegations in a visit to our community. Six members of the new democratically elected Parliament came to visit their newly opened Embassy in Washington DC, and made a stop in New Jersey. The leader of that delegation, Dash Byambasuren, invited me to visit Mongolia for the first time, and so finally, in September that year, my dream came true.
By the time I arrived, His Excellency Dash Byambasuren became the first democratically elected Prime Minister of Mongolia.
At that time, less than 100 Western passport holders were coming to Mongolia for leisure tourism every year.
Much to my surprise, Prime Minister Byambasuren asked me to promote tourism to Mongolia from the West. Filled with excitement and an enormous sense of responsibility, I accepted the challenge and started working immediately. Nomadic Expeditions was established in 1992.
I fell deeply in love with my ancestral homeland, with its untouched beauty, vast wilderness areas and its unique horse-based nomadic way of life. I still find it extraordinary to think that our ancestors had conquered the largest contiguous empire in the world in the 13th century under the leadership of Chinggis Khan, and that almost 30 percent of the population still lives the same nomadic way of life.
In 1999 we started construction of the Three Camel Lodge, which I designed and built by hand with local architects and carpenters, following the ancient traditions of Mongol sum (temple) construction. In 2002 we opened the Three Camel Lodge, the first sustainable luxury accommodation in Mongolia, motivated by a desire to help the country compete with other destinations in Asia and beyond.
In reality, Mongolia has little to envy from any country in the world.
Each traveller is touched in a different way by the vastness of our spaces and the thousand-year history of our people... which is why it is impossible to draw up a list of our country's "must-sees".
Personally, among the typical Mongolian experiences that never fail to make my heart leap with enthusiasm and gratitude, I would certainly include:
walking on a frozen river in the desert during the summer
seeing a circular rainbow
crossing wide open spaces and lakes without a single human
Being in rivers and lakes so clean you can see rocks 90 feet below your kayak
watching 20 stories of sand-formed cliffs becoming flaming at sunset
seeing a herd of 600 horses come to drink water at the well in front of your yurt
riding on horseback with a Golden Eagle on your arm
driving overland on the same dirt paths that Chinggis Khan's armies traveled centuries ago
visiting the ancient capital of the largest empire in the history of the world
watching a Mongolian virtuoso fiddle as sun sets in the middle of wilderness
Mongolia lends itself naturally, one could say: it encourages the traveler to connect with Nature in a different way, or on a larger scale perhaps, and to engage in cultural experiences that are often very distant from what the western world is used to. Let's take nomadic life as an example: we know that pastoral people who led nomadic ways of life in different parts of the world have diminished significantly over the centuries, with many of such tribes having settled and no longer being active carriers of their unique tradition.
In Mongolia, nomadic pastoralism is still at the very heart of the country's culture and identity.
Spending time with nomadic families in the countryside offers a truly unique understanding and deep appreciation of this ancient way of life - one where Man and Nature are intimately connected and harmoniously synched.
I love the saying we have in Mongolia "Only in wide open places, you truly have vision" - and indeed I believe that the vastness of our natural landscapes almost inevitably calls for deep reflection.
I see it in me, but I also see it in so many of my guests. Mongolia has an almost contagious effect you could say...it's an experience that takes you back to the past and makes you think about the future. When our eyes open, our minds and hearts open as well: we become more attentive and eager to protect what we love. One of my guests helped to establish the first kindergarten for deaf children in Mongolia; another guest supports and funds our Three Camel Lodge's scholarship program for arts education in college. Truly, it fills me with gratitude and hope to see people from all over the world who are touched so deeply by my land and want to contribute to its prosperity. It makes me think that Mongolia's cultural heritage is important not only to me and my people, but to the whole world.
Preserving Golden Eagle falconry
I  was not born a conservationist, by the way. The urge to protect Mongolia's cultural heritage grew little by little, hand in hand with the gratitude I felt towards this country since the day I touched its ground. In the late 1990s I visited Western Mongolia's Ulgii province for the first time. I witnessed Golden Eagle falconry, an ancient tradition from this part of Mongolia, and I was concerned that it would eventually disappear, like so many other indigenous traditions around the world. I felt that ancient falconry with golden eagles, traditionally practiced by Kazakhs herders, needed to be saved, so future generations of Kazakhs could keep such an important part of their cultural identity. In 1999 I conceived and co-founded together with three local Kazakhs the Golden Eagle Festival to help preserve this tradition, and the festival continues to play an important role in promoting this cultural heritage. Last year we also launched a conservation partnership with the Wildlife Science and Conservation Center of Mongolia and the Peregrine Fund to support the conservation of golden eagles and the local traditions surrounding these majestic creatures. The project is aimed at monitoring the golden eagle population, and reviewing falconry traditions according to animal welfare guidelines, to ensure that both the bird and the tradition can enjoy a long and sustainable future.
The Mongolian Bankhar Dog Project
Another conservation initiative I'm particularly proud of is the one we started in partnership with the Mongolian Bankhar Dog Project. The Mongolian Bankhar Dog Project has been working to reintroduce the breed to nomadic herders since 2011. The nonprofit breeds, raises, and places Bankhar puppies with nomadic families to serve a dual purpose: repopulate a native breed and protect wildlife. In 2015 we adopted Barbuus, our first Bankhar dog at the Three Camel Lodge. In 2020 we started the breeding, and the first puppies have been placed with local nomadic families this past spring in the Gobi.
Our people, our richness
People, people, people. Protecting our culture means first and foremost supporting small communities, therefore operating as locally as possible. I'll use our operations at the Three Camel Lodge in the Gobi Desert to illustrate how we engage with local communities. The lodge company is registered locally at the local township level, not at the capital city of Ulaanbaatar, which was intentionally done so we could pay all our taxes locally, instead of at the national level. We believe in training, growing and empowering local staff, so we prioritize local families and locally owned businesses in all our purchase and contractual decisions. 100% of the Lodge staff is Mongolian with about 50% of the staff coming from the South Gobi province, where the Lodge is located. Before the lodge was built in 2002, we repaired a defunct well so nomads could come to the well to water their animals.  Ever since we have continued to supply water to approximately 5,000-7,000 animals a day.  Much of the buildings and furniture at the Lodge were made locally by local carpenters and artisans, and we support numerous programs with local schools.
In all my endeavors, I am most fulfilled by empowering others to do their best and be their best.
I would say it is most rewarding to see our team members have grown personally and professionally over the years. The tourism industry is at the early stages of development in Mongolia, and the country lacks not only tourism infrastructure but well-trained tourism professionals. It is extremely important to us that we provide opportunities to our staff for training and growing, both personally and professionally. Our General Manager Buyantogtokh Munkhbayar at the lodge started with us as a tour guide, and our Head Chef Munkhtsetseg Nasanbat started with us as a dishwasher, for example.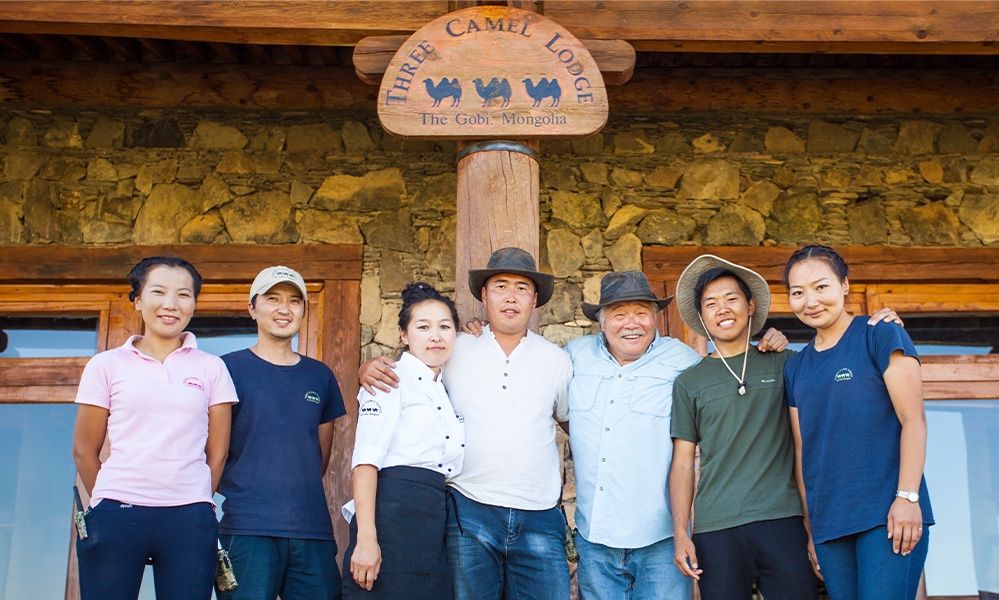 Thirty incredible years have already passed since the beginning of this adventure. I am certainly happy with the results achieved, but above all I have great hopes for the future. Mongolia is a perfect example of how the development of a sustainable tourism model based on environmental, cultural and social initiatives benefits literally everyone. It's in the interest of everyone who works in our industry to contribute to the preservation of the destinations in which we operate.
It is clear to me by now, that knowing and protecting our roots is not only my own desire, but is intimately shared by every man and woman. And by getting close to our roots, by working collectively to strengthen them, we can often realize that we all belong to the same community, the one called Humanity.
Founder of Nomadic Expeditions and Three Camel Lodge, Earhtone's preferred partners in Mongolia, Jalsa Urubshurow also serves on the board of the directors of The Arts Council of Mongolia, The Peregrine Fund and The Captain Planet Foundation.